"Support Hours", a New Joomla! Module by Web357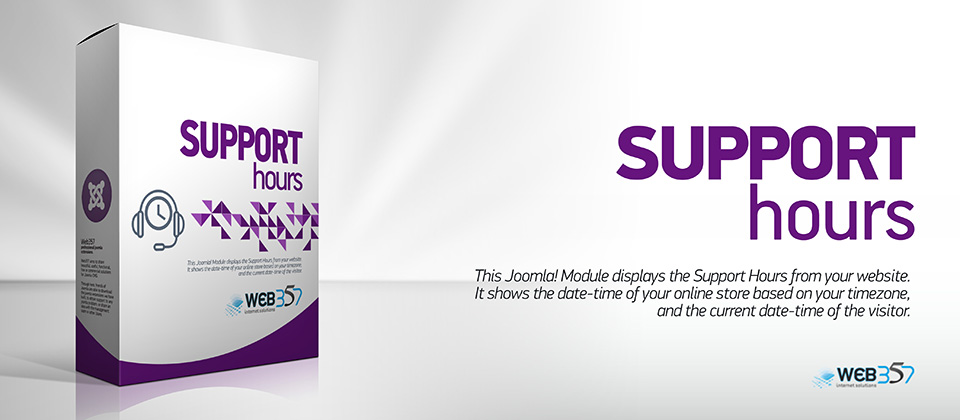 Hello Web357 Friends and Customers,
Hope you are very well 🙂
Few weeks ago, specifically on 09th March 2016, we released the "Support Hours", a new free Joomla module.
This Joomla! Module displays the Support Hours from your website. It shows the date-time of your online store based on your timezone, and the current date-time of the visitor.
This great idea was based on a feature that "Marco van Hagen" asked in Joomla! community at Facebook, on 05 January 2016. I've sent a private message to Marco, if he would like to create a module such as his idea. He, of course, hadn't any problems if his idea be displayed as a free, or a premium extension, in web357.com.
So, we did it 🙂
After few days of the first beta release, the extension passed all the JED validations, and has been published successfully in the official Joomla! Extensions Directory. You can find it, and leave a review in the follow link:
Support Hours in JED: http://extensions.joomla.org/extensions/extension/contacts-and-feedback/opening-hours/support-hours.
Today, I would like to show you some new styles that will be available in few days, for the next update release v1.1.0. Have a look at the screenshots:
Hope you like it! 🙂
View DemoTry the FREE versionBuy the PRO version
The new update with the four new styles above, will be released in few days. Stay tuned!
Best Regards,
Yiannis Christodoulou
Founder and Lead Web Developer, Web357